Washington State Fair
September 19, 2015 at 10:25 am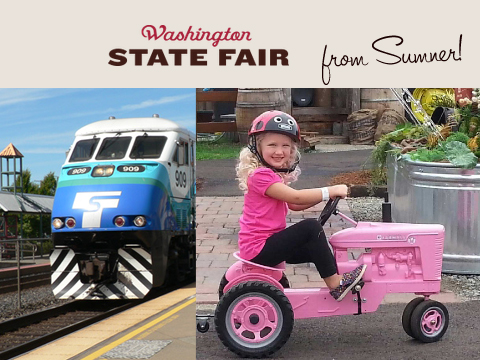 It may say, "Do the Puyallup," but it's pretty easy to enjoy the Washington State Fair from Sumner too! Although a pink tractor would be really fun, try these public transit options instead:
Fair by Train
Sound Transit is offering special Fair trains on Saturday, September 19, and Saturday, September 26. You can park at the Sumner Sound Transit station and catch the special train into Puyallup.  The Fair will run a shuttle from the Puyallup Station to the Fair.  More details here.
Fair by Bus
The Sound Transit 578 bus runs every half hour, seven days a week, between Sumner and Puyallup and offers a great option to skip the Fair traffic any day of the week.  From the Station, transfer to the Puyallup Connector or walk. (It's about five blocks along Meridian from the Puyallup Station. Most people are walking about that far after parking, anyway!)  More details here.  Please note that during workdays, the Sumner Sounder Station is full and has no available parking.