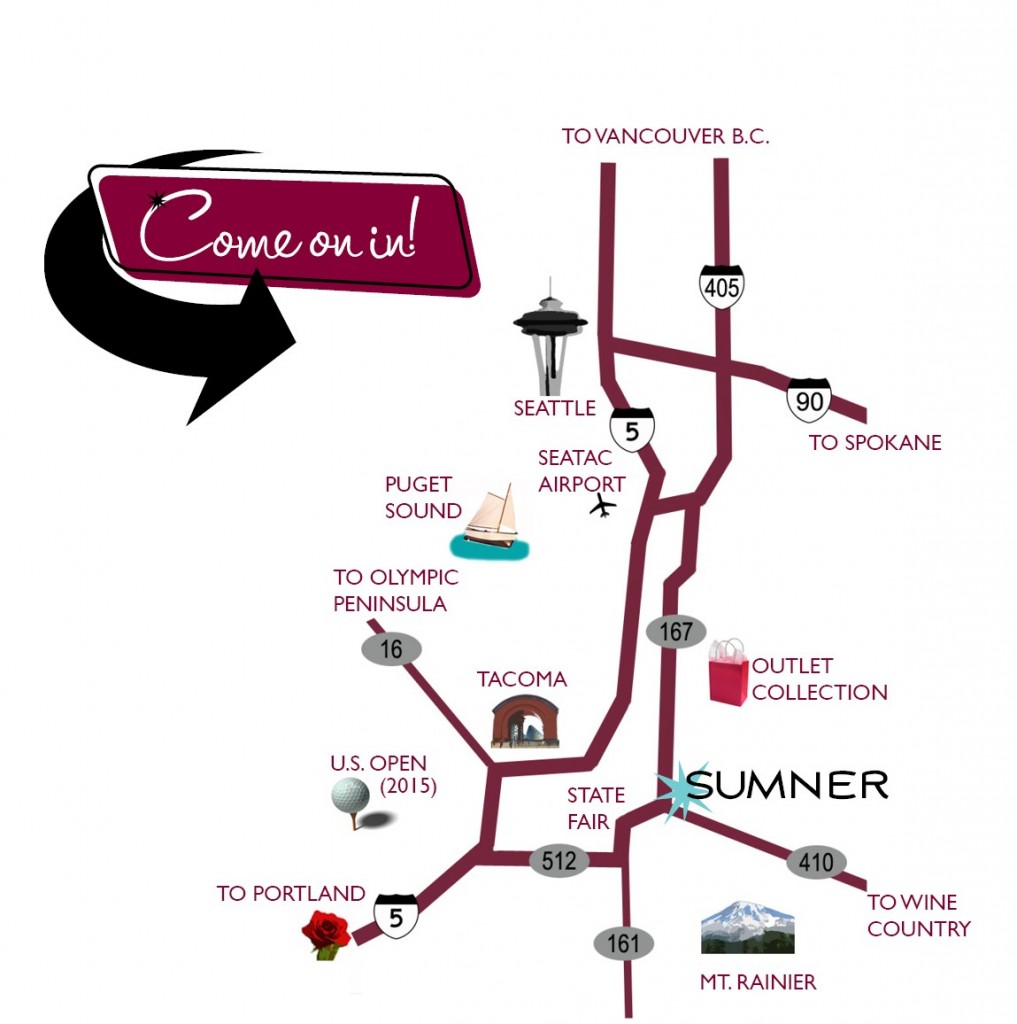 Sumner is only 35 minutes from Seattle, 20 minutes from Tacoma, and an hour from Mt. Rainier–it's the sweetest stop in the center of everything.
Famous as the Rhubarb Pie Capital of the World, Sumner is located between Seattle and Tacoma with easy access to Seatac Airport and Mt. Rainier.  We're also just next door to Puyallup and the Washington State Fair, which is one of the official parking/shuttle locations for the 2015 U.S. Open.  Chambers Bay itself, site of the Open, is 16 miles away.
With a charming, historic Main Street, Sumner is always a great place to visit in itself and an even better place to call "home" while exploring the beautiful Pacific Northwest.
RAIL
From Seattle, you can ride Sound Transit's Sounder Train right to the Sumner Station in the heart of downtown Sumner.  The ride is approximately 35 minutes long.  (Available weekdays and for special events.)
Also, from Eugene, Portland or southern Washington cities, you can ride the Amtrak Cascades to the Tacoma station and transfer to a Sound transit train or bus to Sumner.
PLANE
Sumner is an easy 25 minutes from Seatac International Airport.
You can either rent a shuttle, use the Holiday Inn Express Sumner shuttle (if staying at the hotel) or rent a car.
If driving yourself, follow these directions:
Take Hwy 518 East.
Hwy 518 becomes I-405 North. Continue.
Take the Hwy 167 exit, toward RENTON/AUBURN.
Merge onto Hwy 167 South to KENT/AUBURN.
The hotel is off the 24th Street exit.
For downtown, continue south on Hwy 167.
Merge onto Hwy 410 East to SUMNER/YAKIMA.
Take the E. MAIN/TRAFFIC AVE. exit.
Turn LEFT onto TRAFFIC AVE.