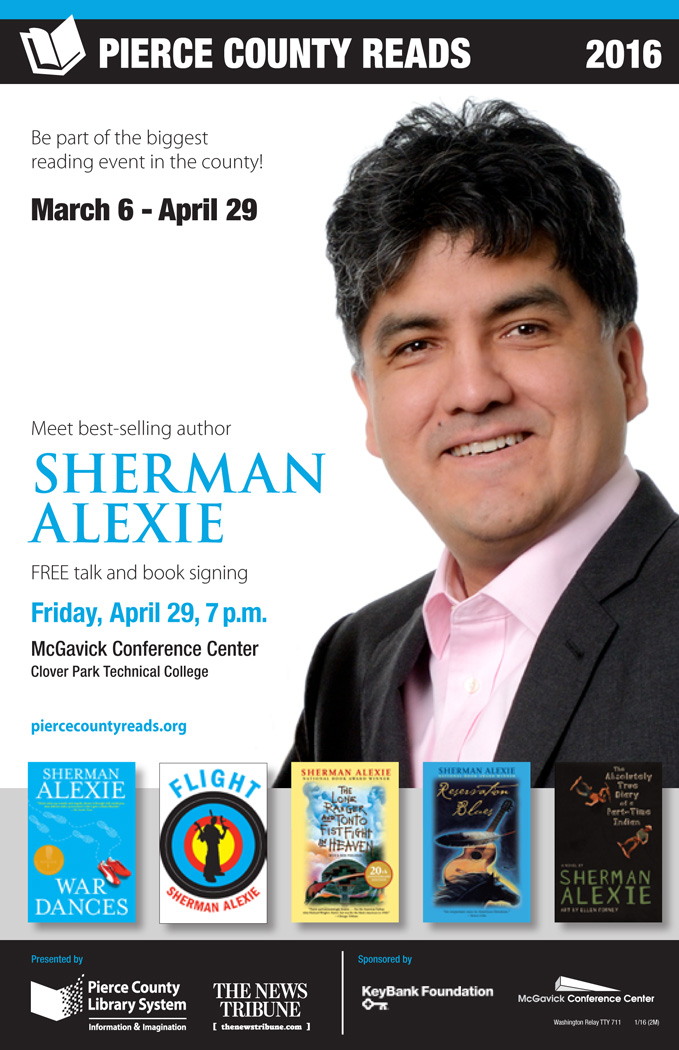 One author, five books. Pierce County READS Sherman Alexie
Outspoken poet, novelist and screenwriter explores modern-day Native American issues
What book will all of Pierce County be reading this year? Er, five books? In a break from tradition, Pierce County Library System chose five notable works from a single author for its 9th annual Pierce County READS program, a program that was inspired by our own Sumner Arts Commission's former Sumner Reads program. Outspoken poet, novelist and screenwriter Sherman Alexie gets the nod as the 2016 featured author.
With razor-sharp wit and unsettling candor, Alexie writes about what it means to be Native American in an isolating and modern world. His writing explores powerful themes such as identity, prejudice, poverty and staggering self-doubt. His books also touch on the beautiful moments of everyday life that leave us changed forever. It doesn't matter where you start. Settle in for a story that will make you laugh, cry and think.
Events throughout the County will continue to explore similar topics and themes.  In Sumner, there will be an evening of poetry at Urban Timber Coffee on April 6 as well as a puppet show of a Native American folk tale called The Raven with crafts and activities for families on April 23 at the library.  Alexie will speak and sign books at a free event on April 29, at Clover Park Technical College in Lakewood. Find out more at www.piercecountyreads.org.
The five Pierce County READS books are:
"The Lone Ranger and Tonto Fistfight in Heaven" (1993)
"Reservation Blues" (1995)
"Absolutely True Diary of a Part-time Indian" (2007)
"Flight" (2007)
"War Dances" (2009)
Print books and e-books can be checked out at all Pierce County Libraries.  Books can also be purchased at A Good Book in Downtown Sumner.